70 Art Centres
1730 artists 
8,686 artworks 
59,538 visitors 
$3.12 million in sales…
The numbers say it all – another triumph for the Darwin Aboriginal Art Fair!
Words by Camilla Wagstaff.
Up until June, it looked as if the 2021 Darwin Aboriginal Art Fair (DAAF) would take its rightful place on Larrakia Country (Darwin) once more. But, alas,  it was not to be. As the virus spread across Australia once again, the Darwin Aboriginal Art Fair Foundation (DAAFF) made the only decision it could: to go completely digital once more. After all, the safety and sure future of some of our most vulnerable communities has always been this Foundation's number one priority. 
Luckily, following on from the roaring success of the online DAAF 2020, DAAFF had already incorporated its online platform into its 2021 battle plan. Because while there is really no substitute for a face-to-face event, the online component dramatically increases DAAF's reach, enabling anyone, anywhere, to ethically purchase art directly from Indigenous-owned Art Centres from across Australia.
As Katie Hagebois at Marrawuddi Arts & Culture says:
"Over last 18 months, so many Art Centres around the country have really struggled with the repercussions of Covid-19 either through reduced tourism or the direct experience of lockdown. DAAF's innovative online response this year provided much needed opportunity by giving everyone the ability to participate without the risk to community health. Indigenous Art Centres from around the Country were able to unite in sharing their culture, stories and talent to an incredibly vast and ever-growing domestic and international audience."
As Joann Russo, Art Centre Manager at Girringun Aboriginal Art Centre says:
"Participating in DAAF 2021 was wonderful. While we were excited to participate in a physical event and disappointed that the fair had to be moved to an online platform, we understood why this had to occur and are grateful to the DAAF team for prioritising the safety of our Indigenous communities. Participating in an online variation is fantastic, especially when community safety is paramount. The DAAF team provided an easy-to-use system that simplified participation."
 Mel George of Bula'Bula Arts adds: 
"Bula'Bula Arts loved every minute of the Fair. In the lead up, the staff were very thoughtful, and the digital platform looked amazing. It is so important to feel part of a bigger movement and DAAF provides this in spades."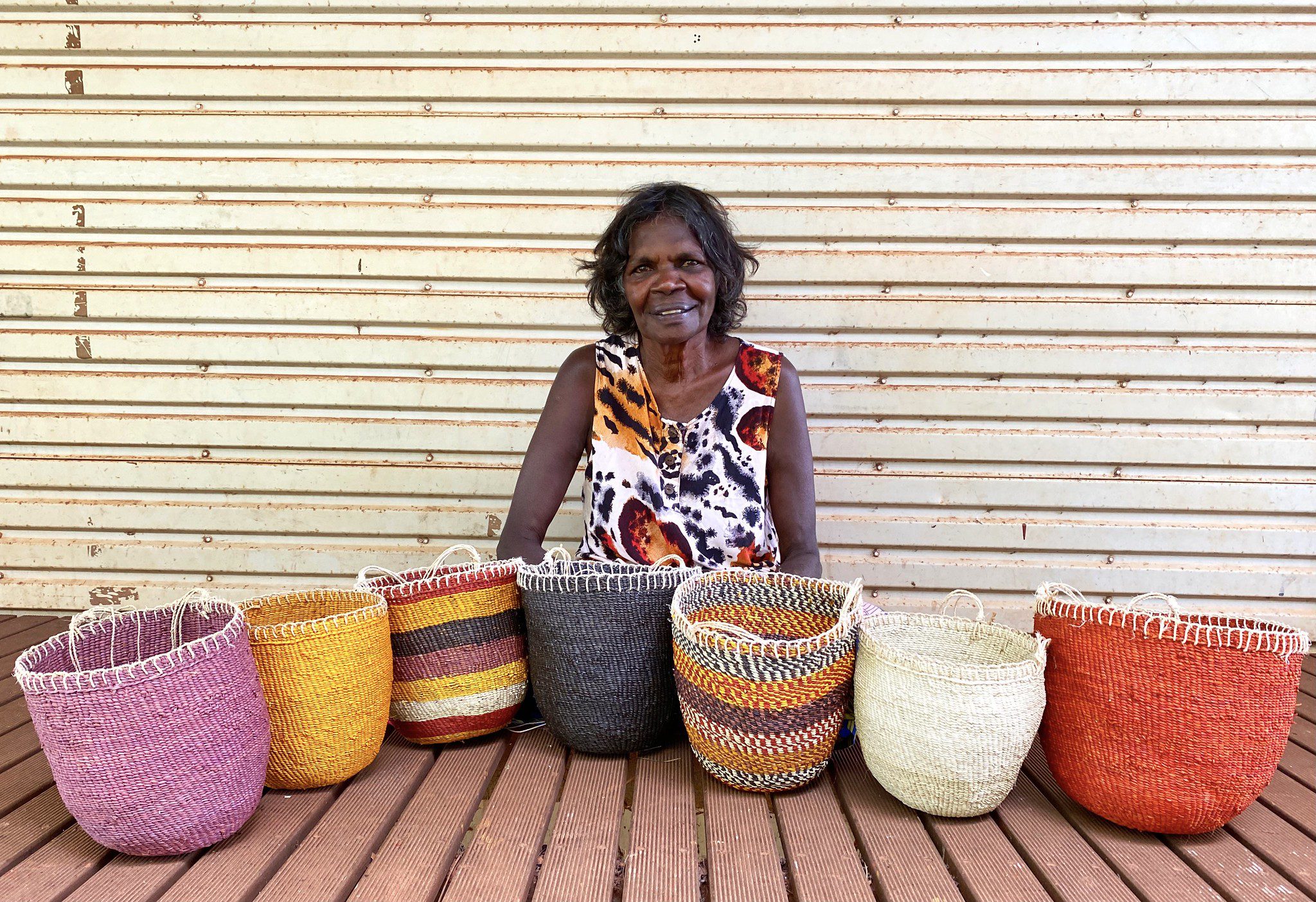 Image | Daphne Banyawarra from Ramingining, photo courtesy of Bula'bula Arts
Image | Senior Artists Theresa Beeron, Daniel Beeron & Philip Denham at Muulga Studio. Photograph courtesy of Girringun Aboriginal Art Centre.
Image | Lulu Cooley burning her Tali Design, photo courtesy of Maruku Arts.
With the experiences of the past 18 months under their belts, the 70 participating Art Centres upped their uploading game, presenting 8,686 stunning works from 1,730 Aboriginal and Torres Strait Islander practitioners – 2,000 artworks more than last year. 
Maruku Arts Projects Manager Liane Wendt comments, 
"It is clearly a great challenge to get everything ready. Getting all the artworks well photographed and online with all the needed information takes a long time, but it is worth it. It is great to be part of this greater community of Art Centres and to connect with art lovers, stakeholders and collectors."
Running 6-11 August, DAAF 2021 clocked 59,538 unique visitors, up a solid 15,000 from last year. Excitingly, around 10% of the audience – or 6,000 folks – visited the fair from abroad. Even more excitingly, average online engagement (that is, the time a single visitor spent browsing the Fair) came in at 18 minutes and 56 seconds – a HUGE achievement and up from around 11 minutes in 2020. 
And people weren't just there to look. The DAAFF team tallied more than $3.12 million and counting in sales! Better yet, DAAF takes no commission on these sales, meaning 100% is returned to the Art Centres, artists and communities.
Many Art Centres, like Barkly Arts, saw "record sales" this year, according to Visual Arts Manager Katie Lynch.
"[We had] strong interest in works from across our Art Centres and almost every represented artist sold out of exhibited works!"
Joann Russo adds: 
"[Girringun Aboriginal Art Centre] increased our sales revenue by 14% in comparison to last year's totals. It is great to see returning customers purchasing again and adding to their collections, along with follow-ups after the Fair had ended."
While Katie Hagebois notes that:
"It was wonderful to see Marrawuddi artists respond to their works selling throughout the time our stall was live, particularly for artists like Irene Henry and Harold Goodman, who had sold out of their cockatoos almost instantaneously. They were so humbled and thrilled and are now busy making more for our September online drop – get in quick if you missed out at DAAF!"
Image | Gladys Anderson and Ruth Dawson painting at Tartukula Art Centre in Tennant Creek. Photograph by Will Thompson image courtesy of Barkly Regional Arts
Image | Irene Henry & Harold Goodman, Karnamarr & Ngarradj (Red-tailed Black Cockatoo & Sulphur Crested Cockatoo), Acrylic on Wood, 2021, 60-160cm Photo courtesy of Marrawuddi Arts & Culture.
The digital Fair was complemented by a Public Program which was curated by DAAFF's amazing Artistic Director, Shilo McNamee. It included artist masterclasses, talks and demonstrations – all adapted to the online mode. Emails of thanks flocked in from participants, who noted that the program was an excellent distraction from the lockdowns so many Australians found themselves in during the Fair.
"It certainly gives me a new appreciation of the work involved in making the [Anindilyakwa Arts ghost net] dolls. It certainly isn't as easy as one might think, and your fingers need to be tough and strong!
"I really enjoyed the painting activity with [Artists of Ampilatwatja artist] Kathleen on Friday. I didn't finish my painting and I am eager to complete. Thank you."
"The three classes I participated in have helped while in lockdown! … Again, thank you for organising and I look forward to next year."
Image | Participant progress from the Artist Masterclass: Ghost Net Doll Making with Anindilyakwa Arts, 2021, photo by Clementine Zawadzki
Image | Participant progress from the Artist Masterclass: Ghost Net Doll Making with Anindilyakwa Arts, 2021, Instagram, photo by Tabitha Morgan
With the success of another digital fair behind them, DAAF participating Art Centres look forward to 2022, and what they really hope can be a physical fair. 
As Rachel Doller at Kaiela Arts Shepparton says:
"[DAAF 2021 was] a great way for us to showcase our work to a much larger audience than we would normally reach, and also to see what other Art Centres are producing. [While we would] much prefer to be there in person, we're thankful for the opportunity to participate online."
At the end of the day, DAAF is so much more than an important revenue stream for Art Centres, artists, and communities. It's a chance to come together, on Country, to connect and celebrate the incredible diversity of Aboriginal and Torres Strait Islander artistic practice. 
As Baluk Arts' Nicole Chaffey told us last year: 
"In attending the fair, the sense of belonging to the wider Aboriginal community that we experience is so nourishing and reinvigorating. We always return home with cherished new friends and knowledge that our community at home can also share in. DAAF always feels like family." 
Here's to 2022!
Image | Baluk Artists Bev Meldrum, Sam Trist and Ash Pugh on Shoreham Beach, Victoria. Photograph courtesy of Baluk Arts
If you too would like to be a part of the Darwin Aboriginal Art Fair Foundation family and support our Art Centres throughout the year, head here for more information:
Our Cover Image:
A work by Lindy Brodie from Barkly Regional Art, this tiny rendition of the Darwin Aboriginal Art Fair is complete with mini versions of the artist's own paintings and those of two other Tartukula Artists! Lindy painted it while everyone was madly preparing for the Fair. Needless to say, DAAFF snapped this gem up for their offices!!