Digital due diligence
The digital space opens up incredible opportunities to engage with and buy Aboriginal and Torres Strait Islander art and culture on a scale we might not have been able to imagine a decade ago. 
But this scale might be intimidating for some art lovers and collectors, especially when it comes to issues around provenance and protecting the intellectual property and rights of our First Nations practitioners. 
So how do we best engage with Aboriginal and Torres Strait Islander art and culture in the digital realm? Here are our tips and tricks from those in the know.
–
Words by Camilia Wagstaff, May 2023
Cover image: Lynley Nargoodah of Mangkaja Arts Resource Agency and DAAF Board Member, Darwin Aboriginal Art Fair, 2022, Photo by Dylan Buckee
Do your research
The digital space gives art lovers and buyers an opportunity to really understand the communities that they're engaging with buying from, says Claire Summers, Executive Director at the Darwin Aboriginal Art Fair Foundation.
 "Seeing something online allows you to go away and do a bit of a research and really start to deepen your understanding about an artist's work. You don't necessarily get the opportunity to do that when you are standing in front of an artwork in person. So it allows for a deeper exploration."
Claire's advice it to go on the journey.
"Go on the journey to discover more about communities and artists, the nations they come from, their language groups and landscapes that inspire their artworks. You will be amazed at what you learn!"
Choose your sources

 
The best way to engage with Indigenous art online is by purchasing art ethically through the right channels, says Chad Creighton CEO at the Art Centre Peak Body, Aboriginal Art Centre Hub Western Australia (AACHWA).
Online, he recommends searching directly through Aboriginal-owned and operated Art Centres, commercial gallery members of the Indigenous Art Code or through the artist directly. 
"This ensures the money goes back to the artist and the community and creates long-term sustainability of these enterprises. Buying Indigenous art ethically is primarily about fairness and transparency in commercial dealings. Buying from an Art Centre online adds certainty, as Art Centres are legally constituted, non-profit corporations, owned and run by the artists and their communities."
Watch this space! 
In recent years, we've seen online marketplaces spring up through best-practice organisations like the Darwin Aboriginal Art Fair Foundation. This has opened the doors for a global audience – from seasoned collectors to curious first timers – to access and support the incredible diversity of Aboriginal and Torres Strait Islander art across the country.
In exciting news, DAAF is developing a national platform that will provide audiences with even more opportunity to have deeper experiences with artists online. The platform will have a rich public program that will accompany an annual roster of exhibitions from vetted Art Centres, commercial galleries, and institutions across Australia and beyond.
"This is going to be your starting point," says Claire Summers.

"It's going to be the place that people will come to, to access and learn about Australian First Nations art globally. It will be the place they come to connect with the artists, learn about ethical purchasing, and hopefully start building their collections!"
Image above: Day two of Darwin Aboriginal Art Fair, 2022, photo by Dylan Buckee
Ask to see more 
"You can expect that not all Indigenous art ends up online, so it is always good to speak to the Art Centre directly to find out more information," says Chad. 

"Some art from artists ends up at commercial galleries or is in an exhibition somewhere, so it is best to check directly with the art centre on what is available for purchase."
Be aware of your rights
Gabrielle Sullivan, CEO at the Indigenous Art Code, outlines a number of questions you should know the answers to before you purchase work online. 
What if the artwork looks different in real life than online?

Is the painting an original or a printed reproduction on canvas?
Is framing included in the sale price?
How is freight calculated? And who is responsible for freight costs?
What if the artwork is damaged when I receive it?
Can I return the artwork?
Who is responsible for the cost of return?
"The seller should have Terms and Conditions (T&Cs) on their online gallery," she says. "If they don't, you can email or ask directly."
Be patient 
For wannabe purchasers, online purchasing of First Nations artworks can overcome barriers of distance, travel, and logistics. But that's not to say there won't be obstacles for the artists/art centres selling their works, cautions Mel Henderson, Artists' Development Manager at the Art Centre Peak Body Ku Arts.
"Remote artists and Art Centres frequently overcome haphazard internet connections, infrequent and often delayed postal collections, road closures due to changing weather conditions, amongst other busy daily community operations. Patience and an enthusiastic attitude that your unique purchase is embarking on its own journey are applauded."
When purchasing artwork by an independent artist – that is, an artist creating outside of an Art Centre model, be aware that these barriers might be more significant, says Mel. 
"Be generous in your patience and support; it's wonderful to have your backing for First Nations art practices. Connect with the artist with your questions or seek support from the organiser or relevant state Aboriginal arts peak organisation." 
Image above: Haasts Bluff community, 2022, Photo by Christian KochImage, Courtesy of Ikuntji Artists
See you in August!
Save the date for the 17th Darwin Aboriginal Art Fair:
11-13 August 2023
DAAF Foundation needs you!
Join the DAAF Foundation Family today by making a Tax Deductible donation, helping support our Art Centre members, artists and communities throughout the year.
Together we make a difference.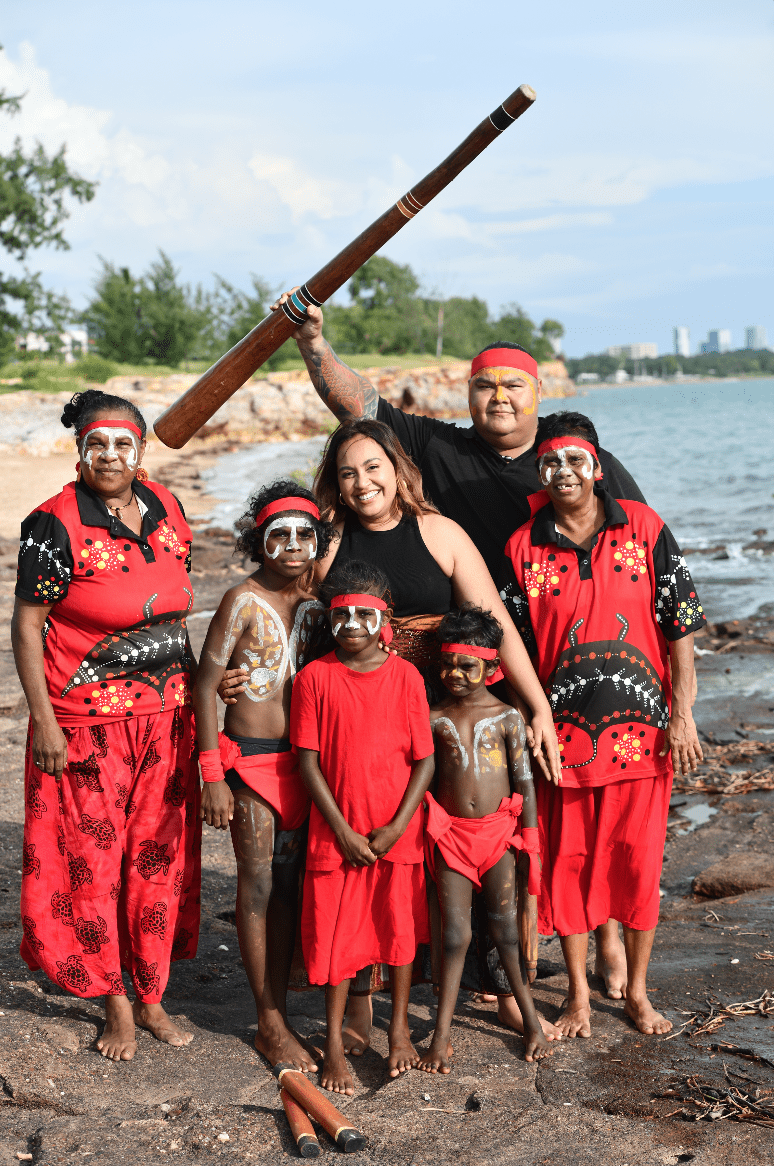 Hayley Panangka Coulthard, Bethany Inkamala, Rona Panangka Rubuntja standing amongst large red rock formations at Pmurlankinya (Palm Valley, Western Aranda Country), Photographer Genevieve Walshe, Image Courtesy of Hermannsburg Potters.Caring for Country is a...